Backbends are a tricky part of a regular yoga practice. They help to open up the chest and heart and encourage excellent spinal health. A healthy backbend practice can counteract much of the slouching and rounded postures that yogis tend to fall into throughout the rest of their day. It can be a very exciting and invigorating part of a regular practice.
On the other hand, backbends can also cause a lot of trepidation for yogis concerned with significant wardrobe malfunctions. Even simple backbends, such as the wild thing, can leave stomachs and other sensitive areas exposed to the wandering eyes of classmates and instructors. As you move into more intense backbends, the wardrobe malfunctions can get significantly worse as shirts come up and yoga pants ride lower than expected.
Is there anything you do to keep your focus off of your clothing and on the proper alignment necessary for a backbend?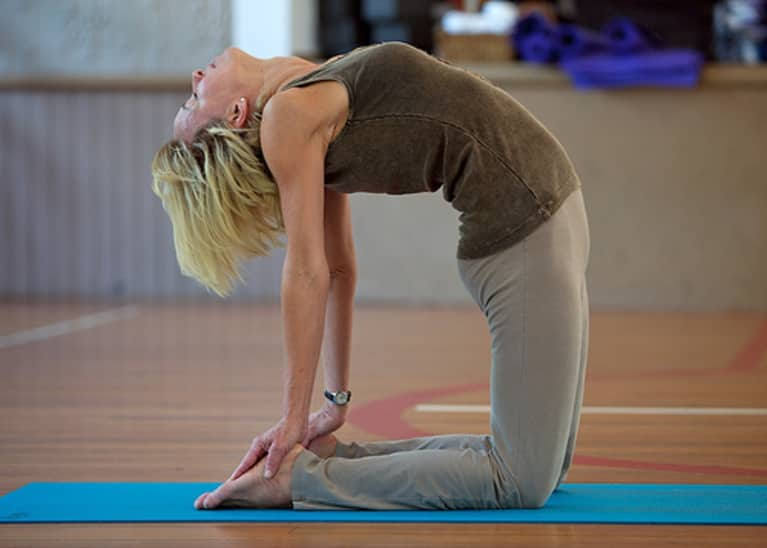 First, you need to ensure that all of your clothing fits you properly. Clothes that are too small are going to move around in the only ways they are able as you stretch out into a backbend. Workout gear that is too loose or baggy will flop around as you lean back into a more dramatic backbend such as the wheel pose or the camel pose.
Workout tops should fit you snugly, hugging your abdomen and chest firmly. They shouldn't be tight enough to restrict your movements or your breathing, which are two very important elements in a healthy backbend practice. When you try on potential workout tops in the store, consider how far they ride up your stomach when you stretch your arms overhead. Do they gape open when you bend over? If so, it's a sign that you may need a snugger fit.
Tank tops are really ideal for an avid backbend practitioner because they allow the arms and shoulders to move freely without affecting the coverage of the torso.
Women should be careful to wear sports bras with adequate support. If a backbend does cause a shirt to gape open unknowingly, this allows you to still feel comfortable in knowing that none of your classmates are bound to see things you would rather keep private. It is a great peace of mind so you can keep your focus on opening up your heart and chest.
Many yogis like to wear high-waist yoga leggings if they plan to practice many backbends in a specific sequence. The higher waistline provides extra coverage for the abdomen when the back arches drastically, such as in the wheel pose. It also keeps the skin protected from the yoga mat in softer backbends like the bow pose.
Lower-waisted pants can be worn to practice backbends, but you may consider pairing them with a much longer workout top. It isn't uncommon to see extra skin from the stomach in a backbend, and this helps you to remain covered.
Dressing for a solid backbend practice doesn't have to be difficult but it does require some advance planning to keep you comfortable and covered during class.